Welcome to the rich woodland of Southwest Drenthe
From an extensive camping place for a (single-parent) family to luxury designer accommodation, De Blauwe Haan Campsite offers you it all!
De Blauwe Haan is a friendly, welcoming campsite which will make sure that you want for nothing during your holiday. Here you have the choice of a variety of accommodation options. So there are the De Blauwe Haan spacious camping places along the edge of the woods, which are in a sheltered position. Here you can enjoy plenty of privacy and gain the maximum enjoyment from this peaceful position.
If you prefer to be more amongst people and activity, you can choose one of our camping places next to one of the playgrounds. This is ideal if you have young children, and if you like to keep an eye on things while they are playing.
De Blauwe Haan campsite also has separate camping places for single-parent families. You will be on a special field amongst other single parents.
Would you like something other than a tent or caravan? Then you have plenty of choice at De Blauwe Haan Campsite! Because you can enjoy your holiday here in a hiker's hut, camping bungalow, chalets, safari tents and luxury accommodation with Jacuzzi, sauna and home cinema! Whoever said that camping could not be luxurious?
Out and about, with and without children!
The campsite is in the middle of the Wester- en Oosterzand nature area. This means that you can step out of your campsite into beautiful nature. However often you intend to go walking or cycling during your holiday, thanks to the diversity of the nature you will encounter something new every day!
Besides nature, there are also many other nice things to be found in Drenthe. For example pay a visit to the Schaapskooi and see how the Shepherd brings the sheep back together at the end of the day. Don't forget the Hunebedden (pre-historical burial mounds) either. This extraordinary piece of history is certainly worth visiting!
If you wish to go out and about with children, swimming is always a favourite. You can choose swimming in a natural lake, or taking the plunge in the nearby swimming pool.
Facilities that make your holiday more pleasant
In addition to comfortable places to stay, De Blauwe Haan also offers you a number of attractive facilities. For example we have recently renewed and renovated our whole toilet building. It has been transformed and equipped with showers that would not be out of place in a luxury hotel. In addition there are now also family showers and raised ceilings, so that you can easily and quickly clean up your children.
You will also find a welcoming 'Dining room' on our campsite. You can come here for a cup of coffee, fresh pastries and cakes, lunch with freshly baked bread and a tasty meal.
There is plenty for children to experience at De Blauwe Haan. There is a variety of play apparatus throughout the campsite, and in the centre there is a large playground. Amongst other things this is equipped with a climbing and clambering frame and a beautiful slide in the form of a blue cockerel! On warm days the children can play in the large sandpit with a water pump.
More information?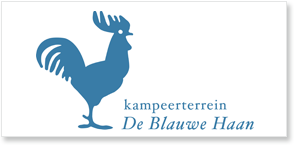 Camping De Blauwe Haan
Fam. van den Engel
Weg achter de Es 11
7975 PZ Uffelte (Dr.)
0521 - 351 269
info@blauwehaan.nl
www.blauwehaan.nl
Impression Kampeerterrein de Blauwe Haan