... Natural enjoyment!
Enjoy your holiday at this friendly, atmospheric and welcoming campsite. A place where both young and old can enjoy themselves!
Camping de Vledders is no typical family, nature or old people's campsite. Thanks to a perfect layout and marvellous welcome, people of all ages can enjoy a top holiday here!
The campsite possesses a large number of camping places which are spread out over a number of fields. For older visitors and those who enjoy peace and quiet, there are separate quiet fields. Other visitors can camp on the other fields, where having fun is the order of the day.
If you do not have a caravan or tent, you can rent accommodation at Camping de Vledders. It is possible to hire Vledders tents (for up to 4 people) and group tents (for 6 or 8 people). Would you prefer not to sleep in a tent at all?
Natural environment with many attractive places to visit
If you are a nature lover, you're in the right place at this campsite. De Vledders is surrounded on all sides by beautiful woods and heathland. The Drentsche Aa National Park and Geopark de Hondsrug are within walking distance. You only need to walk out of the campsite in order to enjoy all the beauty of nature. Within these parks you can enjoy the most marvellous walks and cycling routes.
There is also a vast assortment of places to visit, such as towns, amusement parks and playgrounds. For small children the Sprookjeshof, Verkeerspark Assen and Oranjestad are marvellous. Grown-ups can enrich themselves culturally in the Drents en Groninger museum.
Camping de Vledders has thought of everything
The facilities at Camping de Vledders are unusually extensive and well maintained. Attention has above all been paid to children. With an attractive recreational lake, woods, heathland and areas of sand there is more than enough to experience. Here they can build huts, catch fish or play hide and seek. At the same time you can enjoy the wonderful peace and the sounds of nature from in front of your tent or caravan.
The campsite is the proud owner of four beautiful ponies. The children can also help looking after them. It is also possible to receive lessons, or (for the experienced) to go trekking outside. Do you have your own horse? Naturally you can bring it with you on holiday!
Besides this, a variety of fun activities are organised by Camping de Vledders. For example creative games, sportive games, and playing 'foxhunt'.
More information?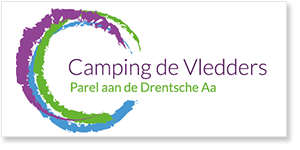 Camping De Vledders
Marianne Glas en Thomas van Noort
Zeegserweg 2a
9469 PL Schipborg
050 - 409 14 89
info@devledders.nl
www.devledders.nl
Impression Camping de Vledders