Landgoed Börkerheide, an estate to experience
Enjoy a peaceful holiday at Landgoed Börkerheide. The location in nature makes the holiday complete. Hidden between the mighty beech trees, oaks and pines, a forest path leads to a beautiful and surprising open space. In the middle is a beautiful fen with two islands. Around the fen is the forest with open places where you can camp. The campsite is a great place to spend a holiday, to completely relax and to enjoy yourself. It is not for nothing that Landgoed Börkerheide is called "the most beautiful secret of Drenthe"!
At Landgoed Börkerheide you can camp on a field surrounded by trees or in open places in the forest. Whichever place is chosen, you are in the middle of nature. If you want to spend the night in a special way, you can rent beautiful and luxurious accommodations at Landgoed Börkerheide. There is a choice of atmospheric safari tents and unique tree houses. Both the safari tents and the tree houses offer a lot of privacy, are fully furnished and fully equipped. The tree houses are spacious, which may make the word "tree palace" more appropriate and they can be rented all year round.
For the children, the camping site is almost one large playground. They can climb in the trees, build huts in the forest or play on the bouncy castle. In summer, guests can use the adjacent outdoor swimming pool for free. And if the weather is not so nice, the recreation room is a nice place to play games.
Discover the area
You can walk from the campsite into the beautiful nature of Drenthe where you can walk and cycle for hours. The cozy village of Westerbork is only 1 kilometer away, with a rich history, but also many restaurants and shops. If you want a day out, visit one of the museums or amusement parks in Drenthe. From zoo to treetop path, from climbing forest to museum, there are always nice things to experience.
Campingoptions
6 amps of electricity
Water tap and waste water drainage
Special motorhome pitches
Facilities at the campsite
Swimming pool near the campsite
Heated sanitary facilities
Wi-Fi
Campsite location
In the woods
Near the forest / nature reserve
Fishing water < 1 km
Village < 1 km
Rental options
Woodlodge
Safaricabin
Woodcottage
Facilities for children
Airtrampoline
Children- and/or babysanitair
Overige informatie
Honden toegestaan (niet in de verhuuraccommodaties)
More information?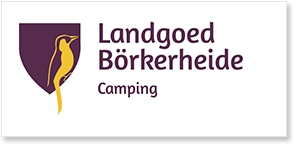 Landgoed Börkerheide
Beilerstraat 13a
9431 GA Westerbork
0593 - 331 546
info@landgoedborkerheide.nl
www.landgoedborkerheide.nl
Impression Landgoed Borkerheide