Friendly, welcoming, enjoyable
The only thing that you have to do at this luxury family campsite is enjoy yourself! Be surprised by the friendly atmosphere and the welcome, which is beyond description.
Camping De Norgerberg stands out as a friendly family camping with an extraordinary number of facilities. You also have more than enough choice in terms of options for accommodation. Naturally there are various spacious camping places available, that are provided with all facilities. So you can make use of your own tap for water, and you will have access to an electrical connection.
Would you like something just a little bit different? Then hire one of the special types of accommodation, like the hayloft. This authentic holiday accommodation is equipped with all facilities, and ensures a comfortable holiday. The Boominn is also truly wonderful. This cabin built on posts gives you the feeling of really living amongst the trees. The Foresters Cabin is a bit closer to the ground and is also highly recommended. Alongside the campsite in the middle of the woods there are also a variety of detached bungalows. The bungalows are provided with all facilities and are suitable for 2-12 people.
Swimming pool with sliding roof
The pool is covered with less beautiful weather but thanks to the sliding roof you can swim outside in the sun when the weather is nice. There is also a paddling pool with special slide in the form of a tractor with a children's cart.
Camping De Norgerberg is located next to the village of Norg. This picturesque village is within the triangle of Drenthe, Groningen and Friesland and is surrounded by beautiful nature. Ancient woods and heathland are just a couple of the marvellous features that you will encounter. We are also happy to recommend a variety of walking and cycling routes!
Luxury facilities for a relaxing holiday in Drenthe
Comfortable camping really is comfortable at Camping De Norgerberg! In the toilet building you will not only find showers and toilets, but also a sauna and a bubble bath. This is the perfect place to enjoy a moment's rest after an exciting day. Children can take a shower in the fun children's woodland bathroom.
Throughout the campsite you can obtain access to the Wi-Fi. So you will also be able to keep up-to-date with your emails and send nice pictures back home during your holiday.
You will find the Bospaviljoen in front of Camping De Norgerberg. You can come here for a hearty meal or for a cup of coffee. The terrace is heated.
More information?
Mehr über unsere Einrichtungen können Sie hier erfahren. Sind Sie interessiert an einem komfortablen Campingabenteuer auf dem Camping de Norgerberg? Dann nehmen Sie gerne mit uns Kontakt auf!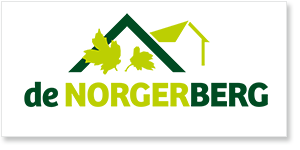 "De Norgerberg"
Fam. Schippers
Langerloërweg 63
9331 VA Norg
0592 - 612 281
info@norgerberg.nl
www.norgerberg.nl