Fun, friendly and always something to experience!
Enjoy your well earned holiday at Camping De Lente van Drenthe. Here you will not only find peace and beautiful nature, but also endless fun!
Located on the Hondsrug, De Lente van Drenthe offers you the best of both worlds. On the one hand you can enjoy the wonderful environment. On the other hand you will be stunned by all the beautiful villages and towns in the immediate vicinity. You will not be bored for a minute here.
We offer you a number of options for your stay. For example there are a number of spacious camping fields where you can pitch your tent. Do you not have your own tent? Then hire one of our pleasant Lente Tents.
In addition you can also choose to camp here in a chalet, bungalow or luxury safari tent. This last type of accommodation is a perfect example of 'glamping'. Amongst other things, the Safari tent has its own sanitary facilities, a kitchen and a heater.
Discover the Hondsrug and surrounding area
The varied surroundings ensure that you will not be bored for a moment. Discover the very special nature, the picturesque villages and attractive towns. Thanks to the favourable location of the campsite, a variety of cycling and hiking routes begin next to the entrance. The extensive area ensures that you do not have to see a single part of the nature more than once.
Would you like to discover the cultural side of Drenthe? Then come and take in the culture at the nearby located museums. The Drents Museum, Internationaal Klompenmuseum (International clog museum) and the Veenpark are highly recommended.
Marvellous swimming pool, restaurant and many more facilities
One of the finest facilities of De Lente van Drenthe is probably the recently opened open-air swimming pool. Because it is heated, you can also enjoy swimming a few lengths on colder days. Do you prefer to swim in the open air? Just 300 m away you will find a beautiful swimming lake, with a maximum depth of 1.4 m. This means that the lake is also very suitable for small children.
In addition you will be thoroughly spoilt at the restaurant, De Eetkamer. You can come here for a cup of coffee and a piece of cake, or for a full three course dinner. Take a seat in the friendly area, and enjoy the marvellous regional products.
During the high season the children can take part in fun activities organised by the entertainment team. The most enjoyable games are organised regularly, for both young and old!
Throughout the camping you can make use of (paid) Wi-Fi. This means that you can also keep up-to-date with your emails and keep an eye on the news during your holiday.
More information?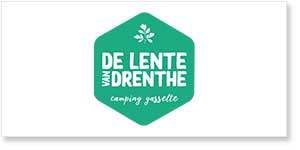 Camping De Lente van Drenthe
Houtvester Jansenweg 2
9462 TB Gasselte
0599 - 564 333
info@delentevandrenthe.nl
www.lentevandrenthe.nl
Impression Camping De Lente van Drenthe